SALTY'S DOG & CAT SHOP
Taking Care of Your Furry Family Members...
Nancy Fedelem, owner of Salty's Dog & Cat Shop, never even liked dogs. Shortly after she said, "I do", in a sneak attack move, her husband, Matt, told her that he wanted to go get a dog. She was caught off guard. She imagined herself holed up on the opposite side of their San Diego home with their two cats, James and Rosie. They would all be shaking their fists towards the sky and ruing the day that some dumb dog came into their lives. She shrugged, rolled her eyes and said, "Fine. Whatever. Get one." Nancy flopped down with the cats to bad mouth her husband and plotted to kick him out of the cat club. Little did she know, soon James and Rosie would have Nancy out on her ear too.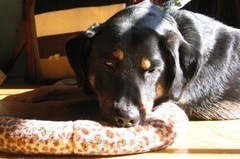 A couple weeks later, in walked Monk, a dark, handsome stranger. He didn't actually have the1971 theme to Shaftplaying as he walked through the door, nor was he flipping his hair or strutting in slow motion, but he might as well have been. Monk was the Rottweiler/Labrador Retriever that Matt brought home and Nancy was immediately drawn to the creature. She didn't expect to fall for him, again, she thought, "But... I don't even like dogs." Yeah, right.
The bonding experience you can have with your pets can change your life, it will make it better. Monk was having fun running around, learning about himself and thoroughly enjoying the rewards of treats and affection. So were his owners. "Yeah, I fell madly in love with him." Monk opened up a whole new world of activity, reward systems and the fun of agility training. Talking about the early days of canine companionship, Nancy gets a dreamy look in her eye, "If he had been a human... I totally would have married him too." This was when the big door to the joys of committing to the welfare of animals started to open for Fedelem. 

It is 2009, the cats are now outnumbered four-to-two by the addition of two Miniature Pinschers (Min Pins), Sharona and Dashielle (aka "Bub") and a redheaded Miniature Pinscher/Italian Greyhound mix, Bryan. They have also had to share their home with about 25 foster dogs over the past 5 years, due to their owners becoming committedMin Pin rescue participants. At least they get to have all the catnip any cat could dream of for coping with the dog atrocities. Dog annoyance aside, their mom owns a veritable candy store. It may be the only reason they never kicked her out of the cat club.
Salty's Dog & Cat Shop on N. Mississippi is almost four years old and their large second location, on SE Stark and 81st, opened August 2008 in the up and coming neighborhood of Montevilla. Both stores offer huge selections of filler free dog and cat food, healthy treats, leads, collars, harnesses, toys, beds, crates, bath products, supplements and more. Everyone who works at Salty's is a caring and knowledgeable pet owner and total animal lover. The staff at Salty's keeps themselves educated by reading books and attending workshops for behavior and nutrition. It is nice to go into a pet shop and have all the mindful selecting already done for you. If you have a concern or need a little direction with one of your animals, Salty's will usually have a suggestion for a new route to try or they will be able to refer you to someone else in the community who may be able to work with you and your pet. Sometimes the answer to what seems to be an enormous problem can be extremely simple.
While I was interviewing Nancy for this article, I told her about how my beloved Boston Terrier, Zelda, has an issue with tugging when we go for walks. Zelda is an amazing dog, but is basically an enthusiastic twenty-pound muscle who can pull with the strength of an eighty pound brute. Walking Zelda is fun, but taxing. It isn't leisurely, with stern commands she will give the lead some slack for a minute max. It is really difficult to be stern with her when she is so smiley and happy to be out and about. Nancy knew immediately what I was talking about and said, "It is her harness. She needs one that connects to the leash from her front. Then if she tries to pull, she will be forced to spin around to face you instead of going forward." What? It could be that simple? For five years we have been dealing with this and all we needed to do was change her harness? Yep. It worked. Zelda is feeling a little pouty right now, but she'll get over it once she realizes that going for walks is even better without tugging. The length of her walks will increase because we won't be frustrated, this will absolutely make Zelda an even happier dog. Which, until getting the harness from Salty's, also seemed impossible.
The biggest issue that Salty's has seen with their customers is poor nutrition. Nancy says that if she is having a hard day, she'll go to a big box store and flip over a bag of commercial dog food to read the ingredients. Reading the long list of fillers, like "animal meal", which is composed of rendered miscellaneous mystery animal parts, including the remains of euthanized dogs and cats from veterinary facilities, reminds her of her mission to help educate pet owners and reaffirms her dedication to our four legged friends. I had no idea. I knew that commercial pet food products contain harmful fillers, which many dogs are allergic to, but I had no idea about animal meal. Animals depend on us to take care of them, we need to commit to the wellness of our companions, inside and out. Salty's Dog & Cat Shop has a wide range of filler free food. All dog food at Salty's is corn free, wheat free, soy free, has no chemical preservatives and is made with human grade meat. Nancy will only sell food that she would feel good serving to her clan, and she is extremely picky. It may cost you a little bit more, but you'll save money on vet bills and your animals will have a better life and love you even more.
For behavioral issues, ongoing dog obedience and early training for puppies, the new shop on Stark is big enough to host training sessions with Portland'sBehave Canine Solutions. Its easy, pets are happier when you are happy with them. Taking on an animal is a commitment and committing to start a puppy off on the right foot (paw!) or devoting time to helping your animals sort through their baggage is rewarding to the entire household. Having an outside party evaluate your pet's behavior can help get to the root of what may be causing naughty tendencies or anxiety. You may not be able to clearly see the dynamics between your pets. Sometimes the instigator of bad behavior and household problems could be the one you least expect! It can be emotional. With your commitment to your pet and yourself, a trained third party can help your family to get the pack back in order. For information or to schedule a class, call one of the Salty's shops or check out the Behave website for more information about classes, private training, trainer profiles and contacts.
Ask Salty's about their fun events throughout the year. If you are looking for a furry new family member, Salty's is involved with Multnomah County Animal Services and Family Dogs, a no kill shelter, sponsoring events throughout the year where you can meet some animals up for adoption. They also participate in the N. Mississippi Ice Cream Social, offering homemade, healthy, sugar-free ice cream for their canine customers, while owners can get a scoop of their own from various shops up and down the street. Don't let your dogs miss the chance to sit on Santa's lap around the holidays at the Stark shop, you get a great photo and all the proceeds go to charity. Please see the unbelievably ridiculous photo below. Hilarious.
Make sure to talk to the folks at Salty's about your pet's nutrition. Itching, dander, gnawing and lethargy are all signs that your pal may be allergic to their meal plan. Switching this up can have you seeing major results within a couple of weeks. They can't tell you, you have to figure it out for them!
Thanks, Salty's! You are making a difference in the lives of many Oregonians, four legged and two. ♥
Salty's Dog & Cat Shop has two fabulous locations in Portland, OR:
Salty's Dog & Cat Shop ♥ North
3741 N. Mississippi
Portland, OR 97227
p: (503) 249-1432
HOURS
Monday - Friday: 11am - 7pm
Saturday: 10am - 6pm
Sunday: 11am - 5pm
Salty's Dog & Cat Shop ♥ SE
8119 SE Stark Ave
Portland, OR 97215
p: (503) 445-9449
HOURS
Monday - Friday: 11am - 7pm
Saturday: 10am - 6pm
Sunday: 10am - 5pm
© 2009 OregonLive.com. All Rights Reserved.
http://www.oregonlive.com/shoporegon/story.ssf/2009/02/saltys_dog_cat_shop.html